Epoxy Floor Coating for Commercial Basements
Epoxy Basement Floors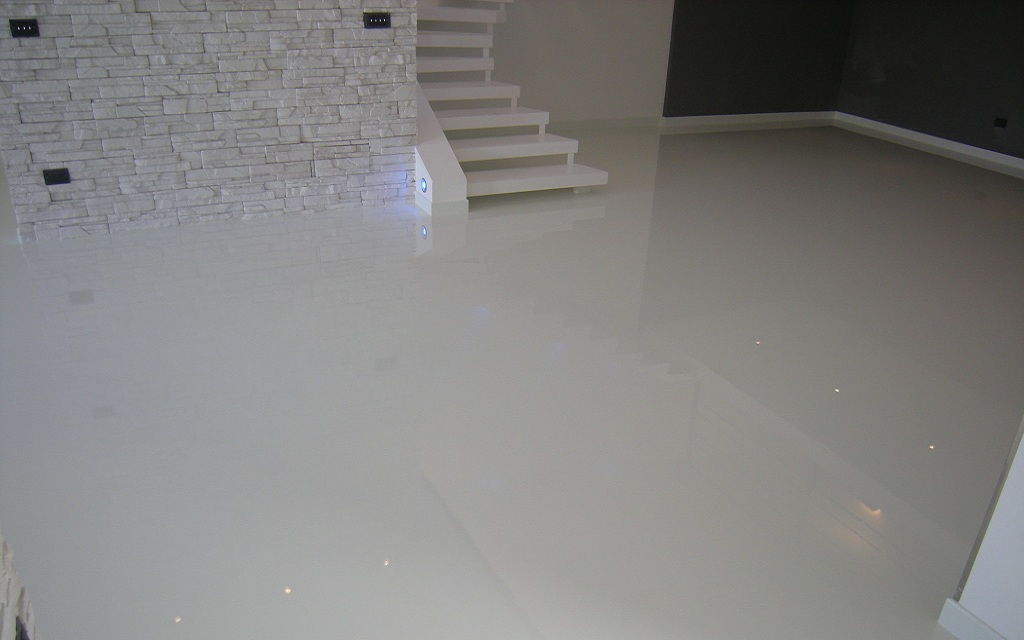 A basement floor can be subject to impacts, foot and equipment traffic and chemical spills. Epoxy coating helps your concrete floor stand up against potential cracks and impurities. Epoxy resin is incredibly tough. It dries thick and hard to both waterproof your basement and provide a durable finish. The waterproof sealant locks out moisture to preserve your space. K2 Painting installs epoxy for floors in businesses looking to secure their infrastructure or in need of a facelift.
Best Flooring for Basements
Epoxy flooring is ideal for businesses with high-traffic basements, such as a recreation area or a workshop. K2 Painting installs three types of epoxy:
Water-based epoxy demonstrates the physical properties of a solvent-based epoxy but has a low to zero solvent content, minimal order, and can be applied to damp concrete.
Solvent-based epoxy provides the greatest durability and performance, is tolerant of petroleum contaminates - great for garages and parking structures - and has a glossier finish.
100 percent solid epoxy retains all of its paint thickness after drying. While a 50 percent solid would require two coats, 100 percent solid requires only a single coat.
Even if you plan to lay carpet or hardwood flooring over your basement floor, epoxy concrete paint can still be beneficial. The epoxy will work as a moisture barrier to prevent future water damage.
Speak with a specialist at K2 Painting to learn more about what kind of epoxy floor coating can benefit your commercial basement.
Should I epoxy my basement floor?
There are many benefits to applying epoxy floor coating to your basement floor, including:
Moisture-resistance. Epoxy protects your basement concrete from moisture. It will also prevent moisture from coming up into your basement.
Durability. An epoxy floor prevents heavy items from damaging your concrete. Over time, heavy items like tables and equipment wear on your floor. An epoxy floor stands up to heavier items.
Easy to clean. Spills and stains are less of a worry with epoxy. Simply sweep and mop – it's never been this easy to keep a clean workspace.
Decorative. Choose between a variety of colors. You can also decide how much or how little decorative flakes you would like on your floor. Get a floor that matches your unique taste.
K2 5-Year Guarantee
K2 Painting is a leading epoxy basement floor company because we stand behind our work. If anything goes wrong with your epoxy basement floor during the first two years – even if it had nothing to do with us – we'll come back and fix it. The remaining 3 years, we will come back to fix any part of our work you're not satisfied with.
Attractive Coating for Basement Floor
Be proud of your basement – install an epoxy floor. We offer epoxy floors for commercial basements in a variety of colors and finishes. We also offer epoxy line striping. You won't believe you're standing in the same basement. Contact our epoxy flooring specialists today to learn more about which garage flooring is right for you.
Contact K2 Painting LLC