Epoxy Floor Coating for Commercial Garages
Durability for Your Garage Floor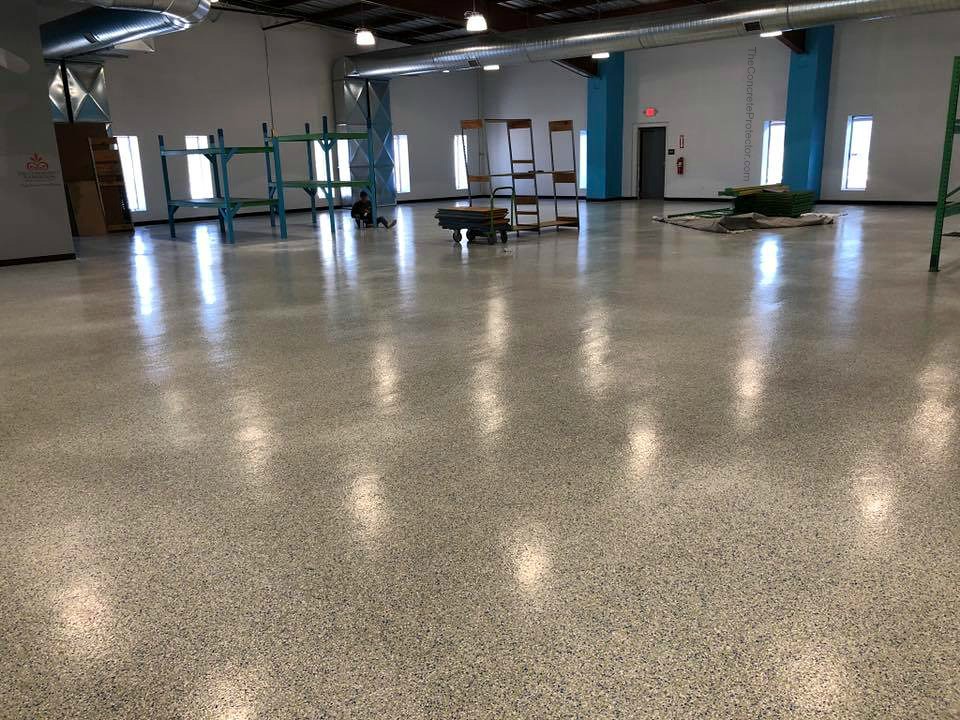 Epoxy coating provides the most durable flooring for your garage. Garage floor epoxy coating from K2 Painting is a thick coating tightly bonded to the prepared surface. These quality floors look nice and can withstand abrasions, stains, impact and chipping. Drop your heavy tools and drag your equipment—your epoxy floor won't mind.
Benefits of Epoxy Floor Coating
Epoxy floor coating is the best finish for your garage floor:
Appeal. Epoxy floor coating perks up your garage. Your customers will be charmed with this attractive flooring.
Resilience. Impacts, chipping, chemicals, stains and surface abrasion isn't a concern with epoxy floors. You don't need to panic every time you drop a wrench - the floor will be fine.
Hide imperfections. The thick coating covers minor imperfections like small spider cracks and flaws in the concrete.
Anti-dusting. Most of the dust in your garage is caused by the powder a cement floor can shed. Normal traffic kicks this powder up into the air, collecting on cars, tool benches and storage items. Epoxy is a topical sealer, limiting the amount of dust in your commercial garage.
Moisture resistant. This topical coating is naturally moisture resistant. Easily clean road salts that collect on the floor during the winter. All it takes is mild soap and water. Dust and debris are easily collected with a broom when the floor is dry.
Speak with a specialist at K2 Painting to learn more about how epoxy floor coating can benefit your commercial garage.
Resilient Flooring for Commercial Garages
Get a floor that can handle your productivity. Concrete floors are subject to impacts, foot and equipment traffic and chemical spills. These impurities take their toll on the integrity of your concrete slab. A garage floor treated with epoxy coating is more resistant to vehicle and foot traffic, dropped tools and chemical and oil spills. Our epoxy is resistant to moisture, dirt, chemicals and salt, making it ideal for rainy and snowy climates. An epoxy floor coating acts as a sealer, preventing dirt from spreading throughout your garage. Your garage will be safer and cleaner.
K2 5-Year Guarantee
We're confident in the work we perform. Our 5-year guarantee is proof. If anything goes wrong with your floor during the first two years, even if it had nothing to do with us, we'll come back and fix it. The remaining 3 years, we will come back to fix any part of our work you're not satisfied with.
Attractive Coating for Garages
Have a floor that matches the personality of your business. We offer epoxy floors for commercial garages in a variety of colors and finishes. We also offer epoxy line striping. You'll be stunned with the appearance of your new floor. Contact our epoxy flooring specialists today to learn more about which garage flooring is right for you.
Contact K2 Painting LLC