Industrial Tank Painting & Coating in Milwaukee
Silo & Storage Tank Painting Services
Industrial tanks and silos require proper maintenance and protection to ensure they continue resisting the elements. A tank which starts to show signs of degradation and weather damage can soon corrode the tank walls and result in contamination or even turn into a safety hazard if ignored.
K2 painting has been painting and refinishing industrial tanks, silos and other industrial equipment for almost three decades in Milwaukee, Wisconsin. That kind of experience makes us seasoned veterans in tank and silo painting. We do jobs on all kinds of tanks including: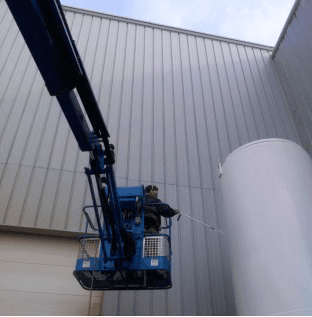 Water towers
Large bullet style propane tanks
Agricultural silos
Chemical standpipe tanks
Sewer and waste water tanks
Storage bins
Take a look at some of our past projects in our gallery.
We're so confident we're the right company for your tank or silo project we will back it with our five-year satisfaction guarantee. For the first two years after the job is finished we'll come back and fix any issue, even if the issue is a result of the underlying material.
Between the third and fifth years we will return to fix any part of our work which doesn't meet your standards.
Contact K2 Painting about a free quote on your upcoming tank or silo paint job.
Get A Free Quote
K2 Painting Process for Industrial Tanks & Silos
Our 28 years of experience make us the best choice for industrial tank and silo painting in the Milwaukee area. We know what it takes to complete a large tank or silo job, from confined spaces training, scaffolding techniques and surface preparation.
At K2 painting we've partnered with Sherwin Williams and PPG to ensure every project is done with products we know can meet our standards of quality and durability. We work closely with Sherwin Williams representatives to determine which coatings will be best suited to bond and stand up to the conditions your tank or silo will endure
A paint job with longevity begins with proper surface preparation. Roughly 80% of coating failures are the result of improper or incomplete surface prep.
How We Choose the Right Coating for Tanks
No paint job is cut and dried, in particular on a job with as many factors and variables as an industrial tank or silo. A paint job on a large silo or storage tank has to stand up to the environment as well as heat and cold, chemical exposure and potential food safety compliance.
In all jobs it's important to be knowledgeable about which coating will best suit the application, but especially so for industrial tanks and silos. Beyond merely aesthetic or structural consequences, a poorly selected and applied paint job can jeopardize the product or material contained within your tank. K2 painting is always sure to select the correct coating and application methods to keep your tank looking great, resisting the environmental elements, and compliant with all FDA, USDA, OSHA and other regulatory agencies.
Environmental Related Considerations
The majority of industrial tanks and agricultural silos are exposed to the elements from sunlight, heat and cold that can crack film or wind born particles can slowly wear away at finishes. Taking all of these factors into consideration when picking a coating and application method will ensure your tank stands up for as long as possible.
Duty Related Considerations
Aside from the external factors working against your tank or silo, there are also factors that need to be considered on the inside of your tank. Internal tank coatings need to be resilient to avoid contaminating your product, as well as prevent product from compromising the tank itself.
Whether you're storing products for petrochemical, agricultural, municipal drinking water, chemical processing or pharmaceutical purposes, the coating on the inside of your tank must hold up and protect your product, your customers and your tank.
Design Related Considerations
Before beginning a job we assess the structure to determine whether it will be possible to achieve a continuous coating, if there are inaccessible areas or dissimilar metals in contact and whether or not solvents will be able to dry beneath an applied film.
Tank Coating Contractors Serving the Greater Milwaukee Area
K2 Painting has been dutifully serving the Milwaukee area for almost three decades. For tank and silo paint jobs in Milwaukee, Waukesha, Racine, Kenosha and the surrounding area, K2 is the best choice. Contact us to get a quote on your tank coating project today!