Metal Roof Painting Contractors for Milwaukee Business & Industry
Professional Metal Roof Painters partnered with Sherwin Williams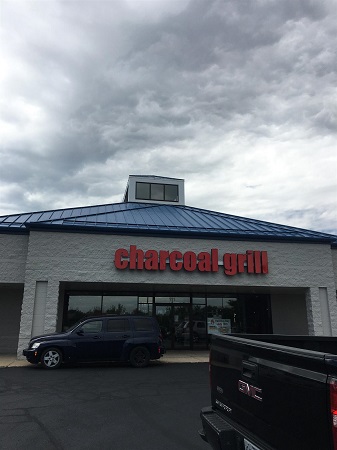 We painted the metal roof & sidewalls on this Milwaukee area restaurant.
K2 Painting is the Milwaukee area's best metal roof painting company. With decades of experience pressure washing, painting and refinishing metal buildings, metal roofs, awnings and ceilings we've seen and done it all.
Quality metal roof painting jobs start with industry-leading paints and coatings. We exclusively use paint for metal roofs from Sherwin Williams and coatings from PPG Coatings.
Can a metal roof be repainted?
Absolutely! We recommend hiring experienced industrial painting contractors to protect the integrity of your metal roof and the building below it. The appearance and durability of your metal roof coating is directly tied to the knowledge and execution of the metal roof painters you hire.
K2 Painting has extensive experience refinishing and repainting metal roofs, awnings, sidewalls and ceilings. We provide the highest quality results and the highest value in metal roof painting.
View Gallery
Get A Free Quote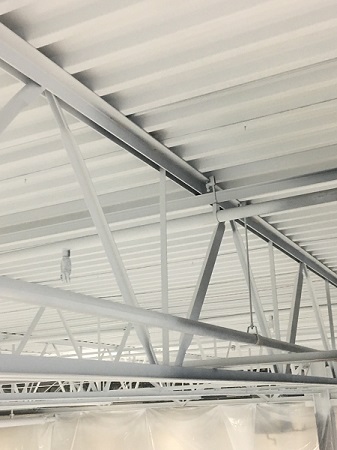 Our painting contractors repainted the metal roof & ceiling of this industrial building.
How much does it cost to paint a metal roof?
The cost of painting a metal roof varies greatly depending on the size and condition of the roof.
When preparing a quote, our experienced metal painters factor in surface preparation, the immediate environment and application & design related considerations.
We understand everyone has specific needs and a budget in mind, and our metal roof painters can provide free estimates based on different coating systems.
Repainting or refinishing a metal roof has a much lower cost per square foot than metal roof replacement. Every metal roof we paint is backed by our 5-year satisfaction guarantee, providing unmatched value to building owners.
Metal Roof Painters in Southeast Wisconsin
From our Brown Deer location, K2 Painting provides metal painting, commercial painting and residential painting services in Milwaukee, Racine, West Bend, Waukesha, Oak Creek and many other cities. If you're not sure if your metal roof is within our service area, just ask! We're willing to travel farther for the right job.
Get a free quote from Milwaukee's best metal roof painters today!