Elastomeric Paint Coatings Withstand Wisconsin Weather
What is Elastomeric Paint?
Elastomeric paint is a thick coating that forms a waterproof exterior to any surface. It completely adheres to the surface yet is flexible enough to move as the surface moves or bends. This results in a slick protective coating that strongly resists cracks and other damage such as chemical damage or mildew. It is thick enough to fill or completely cover hairline cracks and create a watertight seal over the natural seams in a structure or seams from previous damage. It can be used on many surfaces such as concrete, metal, stucco, wood, masonry, and more and is acceptable for roofs or walls.
We highly recommend elastomeric coatings for Wisconsin roofs, especially for metal or where seams and cracks are of concern. Whatever you need painted, we'll work with you to find the solution that makes sense for your home or business.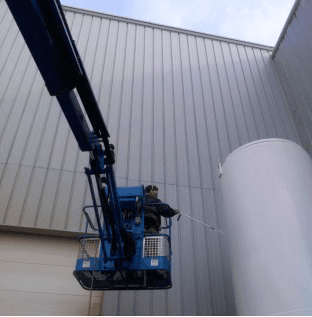 Benefits of Elastomeric Paints & Coatings:
Can last much longer than acrylic paints, which last around 10 years
Heat & UV resistant, which improves energy efficiency of buildings and is thus eco-friendly
Applicable to both commercial and residential purposes
Retains flexibility through extreme temperatures (great for Wisconsin weather!)
Drawbacks of Elastomeric Paints & Coatings:
Elastomeric paint application it is not a job for a novice or DIYer. Application requires expertise, knowledge and safety precautions and should only be applied by an experienced professional.
If improperly applied to wood surfaces, moisture can enter the places where the coating was missed. Because the coating prevents the wood from breathing, moisture that gets through the cracks can lead to damage and decay. The same applies to stucco surfaces.