Local Professional House Painting Contractors
Residential painting company serving Milwaukee, WI
Do you want to give your home a fresh new look? Painting is the easiest way to do it, and K2 Painting is the residential painting company in Milwaukee to call. With decades of interior and exterior painting experience, you can trust us to do the job right. Visit our project gallery or contact us online to see more examples of our completed work for homes and businesses.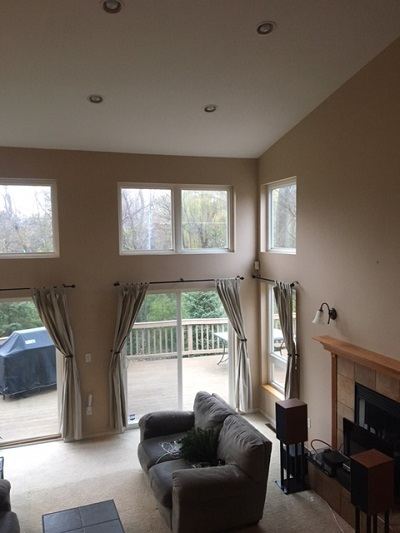 Trust K2 Painting for a flawless finish in or outside your home.
Residential services:
Concrete Finishes
Cabinet Painting
Free Estimates on Interior and Exterior Painting Jobs
Contact K2 Painting today to request a free estimate on residential painting services. Our service area includes all of greater Milwaukee. If you're not sure if you're in our service area, just give us a call to find out: 262-242-0449. We're willing to travel a little farther for the right job!
Interior Services
K2 Painting offers quality interior residential painting at competitive prices. Home interior services include painting, refinishing and staining interior walls, ceilings, railings, moulding and millwork. We also apply varnish/lacquer/polyurethane to woodwork and doors.
Our professional painters also provide wallpaper removal and wall repair. Please note we do not offer lead abatement services.
Exterior Services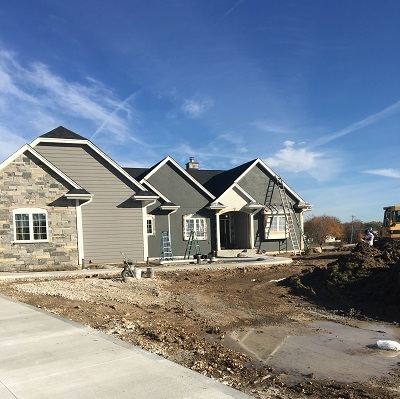 Long-lasting exterior painting work for new homes & remodeling projects.
Exterior services include painting or staining of cedar, hardi-plank, vinyl, and aluminum siding.
Additional services include:
Refinishing older stucco
Refinishing wood-sided homes
Deck sealing/refinishing
K2 Painting is one of the few Milwaukee area painting companies specializing in metal refinishing and painting, including roofs, fences and doors. Our painting contractors can apply anti-corrosion coatings to metal surfaces and concrete finishes for your garage floor. Please note we only offer our exterior painting services for homes built in 1978 or later.
From the initial estimate and scheduling to a flawlessly completed project, K2 Painting offers quality residential exterior painting services at competitive prices.
Get A Free Quote
What sets K2 Painting Apart from Other Residential Painters?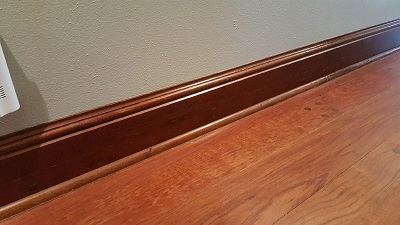 No drips, no streaks, just beautiful clean lines.
We take great pride in our work, attention to detail and our ability to get the job done in a timely manner. Excellent communication with our customers, in-depth product knowledge, and a high level of owner involvement go a long way to ensure total satisfaction with our work.
Once you contact us, we'll set up an appointment to meet with you and discuss your project. At this point, we will discuss your options.
Estimating your job
On many projects, we will offer two product choices to ensure we can meet your budget expectations. Labor costs may vary depending on the products selected, but we'll always factor this into your estimate. There's no charge for us to provide an estimate, and you can expect to receive it within two days of our meeting.
Our previous customers are our number 1 selling point, so we're always happy to provide references when asked.
What can you expect when you hire K2 Painting?
First and foremost, complete professionalism. We unload, set up and get to work. Our crews are neat and organized, and we leave the job site clean at the end of each day.
Most exterior jobs require pressure washing. This is usually step 1 on the first day. All paint companies specify pressure washing as a necessary preparation. The area to be painted has to be free of soot, dirt, chalk and any type of residue or loose coating. Any loose paint/stain chips will be cleaned up on the first day, and all hard surfaces will be rinsed clean.
Preparation for Interior Painting/Staining/Refinishing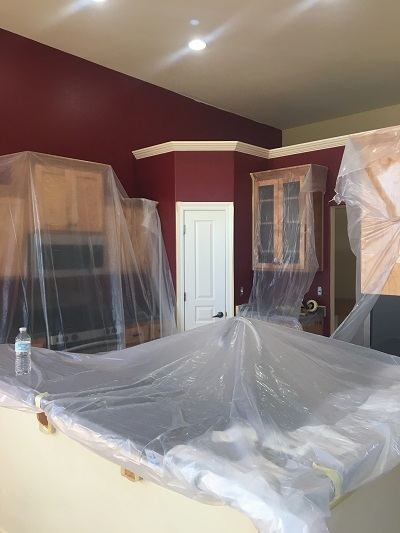 Your home will be carefully protected before any work begins.
Before we open a can of paint or stain, or start prepping, we cover all surfaces not to be painted. K2 Painting does not take short cuts when it comes to protecting your interior. We use a combination of drop cloths, plastic sheeting, masking film and tape. Drop cloths are only used to cover flooring, so you don't have to worry about old paint on a drop cloth coming off on your furniture.
Craftsmanship still matters at K2 Painting. All interior painting and wood work is done by a master painter with decades of experience. We never subcontract your interior work to other painters or have inexperienced painters working in your home.
In addition to painting walls, ceilings and woodwork, we also refinish cabinets and woodwork, bringing out the natural beauty of the wood while enhancing your home's value. And, of course, we can also paint stained woodwork or paneling.
What to expect throughout the painting process
Our goal is to minimize the inconvenience and stress of having workers in your house and to keep the project moving on schedule, so we keep you updated on our progress throughout the job.
We take a systematic approach that focuses on finishing one area of your home before moving on to the next. On large projects, we complete 1-3 rooms in one area at a time. We take this same with exterior projects, as well. And we don't take shortcuts to get through the job faster.
Contact K2 Painting
A Step-by-step look at how K2 Painting works:
Step 1 - Pressure washing
We will wash your home with a cleaning solution that is not harmful to plants or grass. This will eliminate mold without using bleach. Aluminum or metal surfaces will be washed at 4000 psi to remove any chalk or residue. Often, a high pressure washing will brighten gutters enough that painting isn't even necessary. Cedar, hardi-plank, or wood siding will be washed at lower psi to avoid damaging the surface. If we're refinishing your deck, a very low pressure will be used so the cedar fibers don't close up, which would prevent stain from penetrating.
Step 2 - Cover all surfaces not to be painted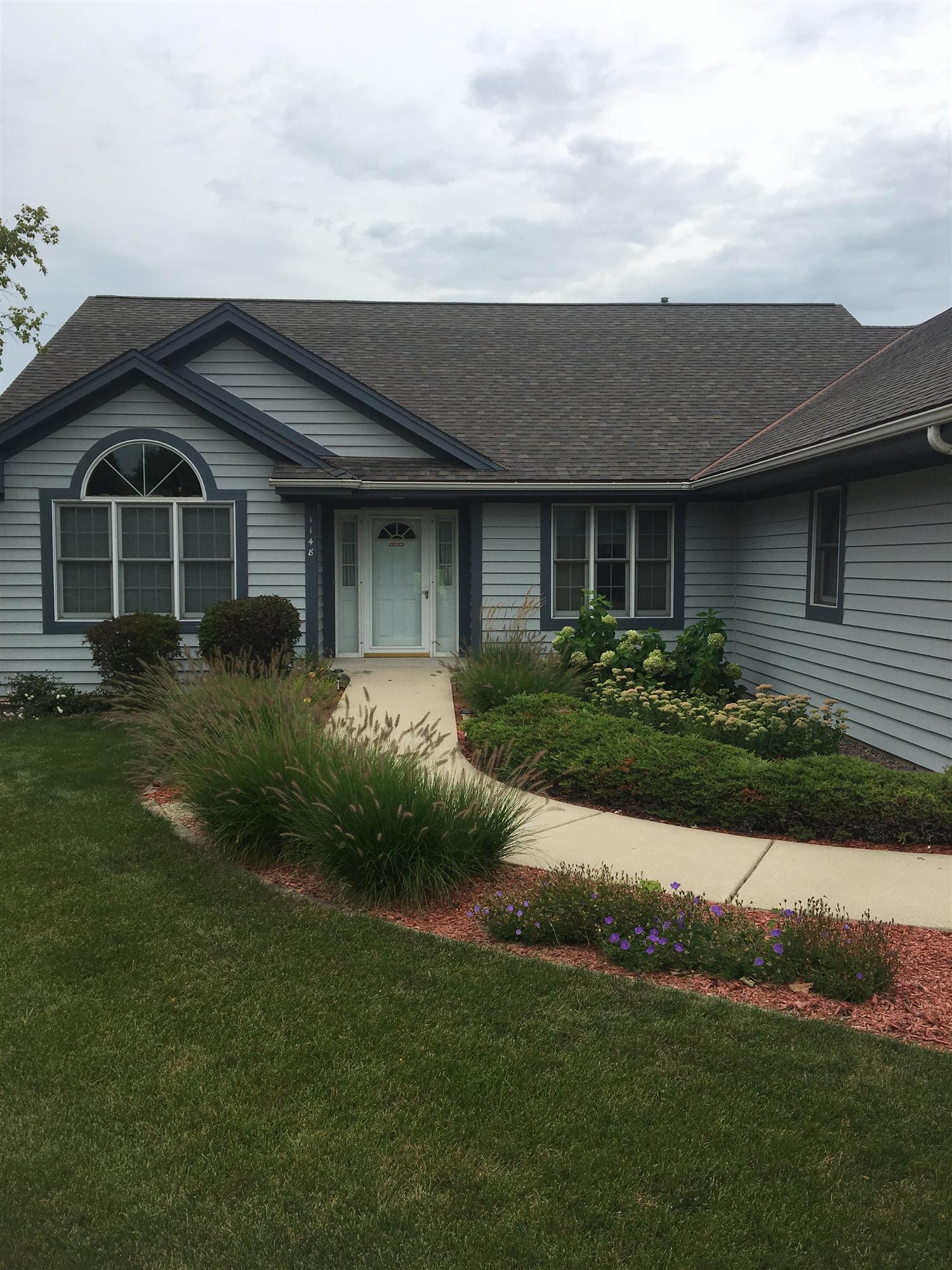 We paint & refinish any type of siding, trim, shutters and ornamental features.
The method of paint application will determine how extensive your masking needs are. For example, if we are going to spray and back brush your siding then we will completely cover your windows, doors, and trim. All shingles will be protected as well. K2 Painting is all about improving the appearance and durability of your home's exterior, and errant paint is not part of this.
Step 3 - All necessary caulking will be completed
If your caulking is sound after pressure washing and hand scraping, we'll do some cosmetic caulking—basically, touching up the caulking and filling minor cracks. If areas of caulk fail and are removed completely from the pressure washing, we'll apply a new bead of caulk. Smaller gaps will be filled with acrylic latex caulking, larger gaps will be filled with a Polyurethane sealant like "Vulkem."
Step 4 - Scrape and oil prime
Old, flaking paint will be scraped away. Exterior priming is completed with Oil/Alkyd Primers. This is a necessary step in our 5-year exterior warranty. If you've been diligent about staining your home every 3 years, let us know. We will warranty your home for 5 years, but you can reasonably expect our work to last 7 to 8 years with two coats of Acrylic stain. K2 Painting follows ALL manufacturer's recommendations/specifications, so you can expect our work to deliver the results stated on the product.
Step 5 - Apply appropriate material
For residential projects, this may be a paint, stain, elastomeric coating, or DTM (Direct To Metal) coating. If necessary, a commercial product upgrade may be recommended by K2 Painting in order to meet the standards of our 5-year warranty. We only use quality products, so you'll never get a paint job that peels off in two years and has to be redone. Having K2 Painting protect your siding and trim with appropriate coatings extends the life of these materials and improves the appearance of your home.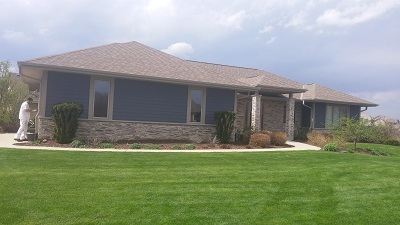 We'll walk through our work with you to ensure your satisfaction.
Step 6 - Quality check
When we've finished our work, your home will be thoroughly inspected for any defects in the coating application. If any touch up work is needed, we'll take care of it.
Step 7 – Jobsite cleanup
No one wants to see paint chips all over their yard after the painters leave. We do a thorough cleanup and even put down new mulch if needed.
Step 8 - Do a final walk through with customer
The final walk through gives you the opportunity to inspect our work. If you spot anything needing a touch up (unlikely!), we'll take care of it. After you've inspected our work and approved the project, we'll load up and leave.
Contact your Milwaukee area residential painters online for a free estimate, or call 242-242-0449.
K2 Painting's service area includes the greater Milwaukee area & surrounding cities: