Professional Epoxy Floor Coating for Warehouses, Basements, and Garages
Durable Epoxy Floor Coating, Painting, & Striping in SE Wisconsin
Installing an epoxy floor in your business can be a huge safety improvement, as well as an investment in your business's infrastructure and a facelift for your boring concrete floor. Epoxy flooring is an ideal investment for businesses with: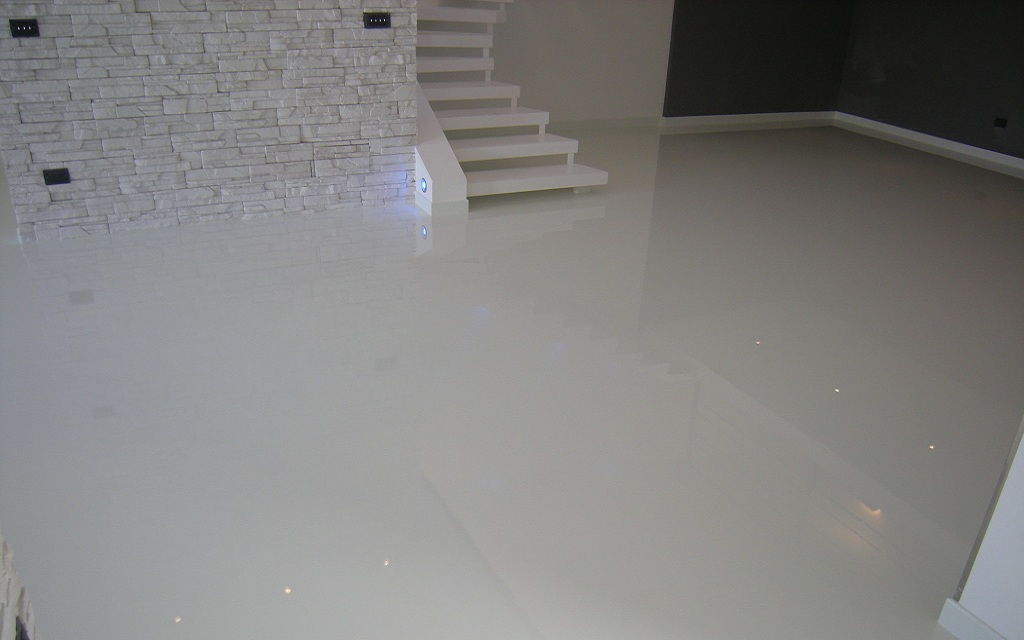 Factory Floors
Warehouses
Machine Shops
Auto Mechanic Shops
Auto Dealerships and Showrooms
Epoxy resin is incredibly tough. A concrete floor in your business can be subject to impacts, foot and equipment traffic, and chemical spills, all of which take their toll on the integrity of a concrete slab. Floors protected by an epoxy coating from K2 Painting resist those impacts and wear from traffic, and make chemical or oil spills easy to clean. Our industrial paining specialists offer only the best in shop floor epoxy paint to make sure you get a quality finish that looks great and lasts long. Take a look at some of the epoxy flooring jobs we've done in our gallery.
Epoxy is not just a paint job, it is a polymer coating that seals in your floor. A commercial floor with an epoxy coating is resistant to the stresses of normal use, it will also prevent argon gas from seeping in and moisture penetration.
Our Commercial Epoxy Painting Experience
Commercial Enterprises prefer K2 Painting because of our reputation for working efficiently and neatly to deliver quality work. When we're installing an epoxy floor in your business you can count on us to keep your downtime to a minimum and cause as little disruption as possible, and we hold to that same diligence and attitude for residential jobs. We also offer epoxy line striping for businesses or industrial warehouses.
The K2 5-Year Guarantee
We are so confident in the work we do that we back every paint or epoxy job with our 5-year guarantee. We will come back within the first two years and fix anything even if it was part of the underlying material, unrelated to our work. During the remaining 3 years, K2 will come back to fix any part of our work that you're not satisfied with.
Epoxy Painting for Any Application
Epoxy is a perfect flooring option for environments like commercial or residential garages. A garage floor that has been treated with an epoxy coating will be much more resistant to impacts from dropped tools, vehicle traffic and chemical spills. While a plain grey epoxy coating might be a durable and practical choice for changing oil or hanging out in the garage with the guys, we also offer more colors and finishes for other settings. For commercial bathrooms, lobbies or other areas where customers and the public might be, we have a variety of colors and finishes to ensure that your concrete floor is protected and presentable.
Contact K2 Painting about having an epoxy floor coating in your home or business.